"You do not have to say anything. But, it may harm your defence if you do not mention when questioned, something that you later rely on in court. Anything you do say may be used in evidence". You can be arrested at ONLY 10 YEARS OF AGE! Therefore Children need to understand the consequences of poor choices at 10 years of age.
………………………….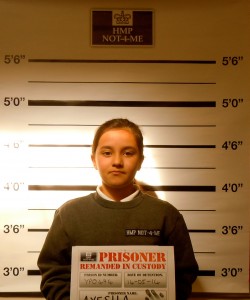 HMP NOT-4-ME understand the world around us is changing at such a pace and the outside influences affecting children are hard to keep up with not only for teachers but parents as well. They seem to know so many more things and at a much younger age than ever before. This influences their attitude and behaviour inside and outside of school. To help guide and steer children to make the right choices it is important that they understand the consequences of their actions and what harm this can bring to themselves and others. True understanding comes not only from being told what to do or not to do, but also the reasons why it is important.
"Personally, I thought that the day was amazingly exciting and educational at the same time. I loved all the activities that we got to do. My best part of the day was when we got to go in the van and see what the prison cell looked like in real life but I hated the smell that it give off. Apart from smell everything else was absolutely great and would love to do something like that again!!! :)" Merem – Pupil, Lower Wortley
PRISON CELL ON WHEELS
HMP NOT-4-ME brings a real life replica Prison Cell to your School along with a day of education and understanding of the consequences of choices and behaviour. Children look, smell, touch and actively get an understanding of Her Majesty's Prison.
KEEPING CHILDREN SAFE IN EDUCATION
Supporting schools now and having supported schools previously as a Police School's liaison officer we understand that teachers are concerned with not only academic attainment of their pupils but also safeguarding and protecting them from abuse, harm or neglect. In addition education which involves life lessons, making good choices and conforming to moral and social responsibilities, critical for children to achieve their best life chances.
"Thanks to Mick and Martin for really opening up the very real consequences of crime & punishment. Rather than just teaching the children an abstract notion of the implications of committing crime, the interactive games and portable prison cell, brought the whole subject to life and taught the children some very important and sobering lessons about how crime affects not just the victim and offender, but also each's wider family and society as a whole. It also taught the children how bad choices can affect the rest of their lives. The passion the guys have for their subject is truly evident and the children were totally engaged throughout the whole day. Would wholeheartedly recommend". Mr Embleton – Teacher, St Bartholomew's C of E Primary School
HMP NOT-4-ME cover safeguarding topics in an age sensitive manner which equips children with the knowledge to stay safe in the real world and cyber world. Simple tips like asking children to like CEOP and other internet safety sites on social media is a prevention against online predators.
'Who you are

tomorrow
are the choices you make

today

'

.
Funding donations and grants are appreciated to utilise this and other early intervention strategies we employ. They can be be submitted through our partner iAspire2 Community Interest Company. Please email for information.